The Cause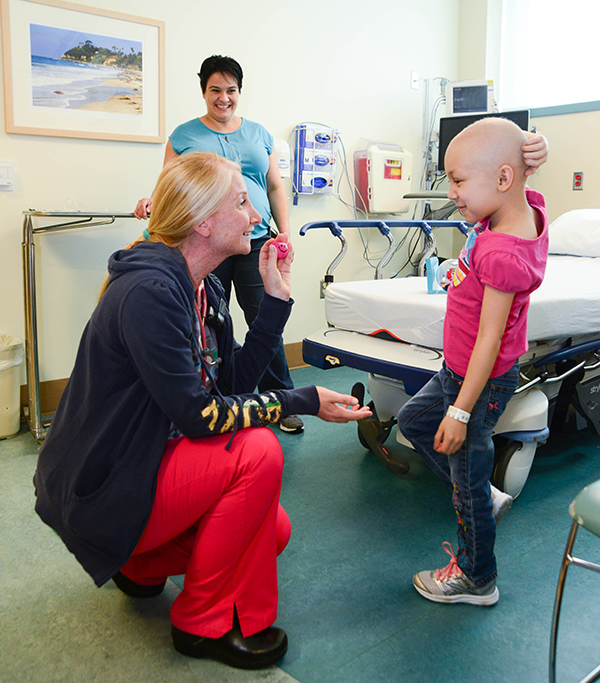 Use of Celebration of Champions® Funds
For the sixth consecutive year U.S. News & World Report has ranked Rady Children's cancer program among the nation's best. This cancer program includes the following innovation psychosocial programs that help pediatric cancer patients and their families from the first moment of diagnosis. These programs could not be fully funded without proceeds from generous Celebration sponsors and donors.
Clinical Social Worker Services: Counseling to help patients and family cope with cancer diagnosis and ongoing treatment, including end-of-life and bereavement support.
Child Life Services: Psychological preparation for surgery, procedures and tests to help children and families understand and deal with their cancer. School visits, Activity Room programming and medical/therapeutic play are also provided to promote healing.
Hematology/Oncology Parent Liaison Program: Liaisons, each of whom has had a child treated for cancer, share their own personal experiences and offer strategies to deal with the day-to-day challenges a cancer diagnosis brings to a family. The Patient Family Fund provides assistance for meals, transportation, wigs, and pharmacy co-payments to families in need.
Spiritual Care: Provides spiritual assessment, crisis intervention and counseling as requested by families challenged by a pediatric cancer diagnosis.
Counseling Services: Psychologists treat children and families experiencing adjustment problems with their diagnosis and treatment. Therapies include crisis intervention, supportive therapy and referral to mental health agencies.
More information about Rady Children's psychosocial services can be found at http://www.rchsd.org/programs-services/cancer-blood-disorders